Petar V. Aracic
(1885-1958)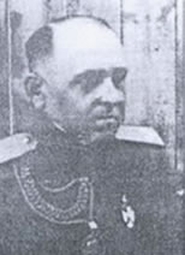 Petar V. Aracic (Belgrade, 25 July 1885 - London, 19 October 1958), general of division. He graduated from the 35th class of the Lower and the 20th class of the Higher School of the Military Academy, he finished the intelligence and General Staff course. During the wars between 1912 and 1918 he served as a company commander and adjutant of the Timok Division.
After the wars he was a battalion commander in the Non-Commissioned Officers School, chief of staff of the 1st Cavalry Division, chief of staff of the Cavalry Inspection, professor of tactics in the Military Academy, chief of staff of the division area and defense attaché in Warsaw. In the Main General Staff he was first head of the Education and then Intelligence Division. Afterwards he was appointed a commander of the Danube and Boka Kotorska division area. He spoke German, Italian, French and English language.
He was pensioned in 1940, but reactivated in 1941. He participated in the April War, where he served as assistant to the commander of the Maritime Army area. He was in German captivity until 1945, when he emigrated to Great Britain. From 1952 to 1955 he was the president of the Serbian church community in Great Britain. His was the son of general Vukoman Aracic.