Jovan Miskovic
(1844-1908)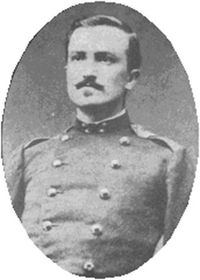 He was born on July 6, 1844 in Negotin. His parents were Radun, a salesman from Negotin, and Rada. He died on October 20, 1908 in Belgrade.
He was married to Kruna, daughter of Miloje II Blaznavac, a salesman from the village of Blaznava, in the Kragujevac County. He had two sons, Bogdan and Vojin, who died very young. Vojin was also an officer.
He finished elementary school and four grades of high school in Negotin. Then he finished the fifth and the sixth grade of high school in Belgrade. He entered the army as cadet of the 5th class of the Artillery School, on September 6, 1860. He graduated on October 1, 1865 as the fourth in the class, when he was made artillery 2nd lieutenant.
Promotions: corporal, on October 7, 1861; sub-sergeant, on March 30, 1863; sergeant, on August 4, 1864; 2nd lieutenant, on October 1, 1865; 1st lieutenant, on August 1, 1868; captain, 2nd class, on August 19, 1872; captain, 1st class, on January 4, 1875; major, on September 6, 1876; lieutenant-colonel, on November 5, 1876; colonel, August 2, 1883; general, on February 22, 1894.
Duties: after he finished the Artillery School, on October 1, 1865, he was firstly appointed as senior operator of the Stragari Gunpowder Plant, and on October 15, 1867, he was named the head of the Plant. On August 26, 1868 he was appointed a general staff officer in the Rudnik County Army, where he remained until March 6, 1873. From that time he was the acting commander of the Jagodina Brigade of the National Army 1st class.