Blaznavac Milivoje
 (1824-1873)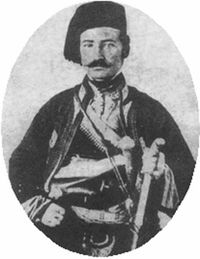 He was born on May 4, 1824 in the village of Blaznava, Kragujevac county, as a son of Petar, a local salesman, and Petrija. He died on March 23, 1873. He was married to Katarina, daughter of Anka Konstantinovic, granddaughter of Jevrem Obrenovic. He had a son Vojislav, who later became officer, and a daughter Milica.
He finished the elementary school in Blaznava. After the uprising, in 1849, he went to Metz (France), where, according to some information, he finished a General Staff training course (Military Application School).
He was promoted first lieutenant on July 5, 1846; staff captain on June 29, 1847; major in May 1849; lieutenant colonel on December 15, 1855; colonel on January 15, 1858; general on August 10, 1872.
Duties: after his elementary education, he worked as assistant in his father's shop. Later he became independent and he was a professional dyer. When he was 18 years old, he started working in the public service. In April 1842, he became a practitioner in the prefecture of the Rudnik County. In September of the same year, he was transferred to the capital, where he worked as a practitioner of the Ministry of Internal Affairs. In December 1842 he was promoted to clerk. In February 1845 he became secretary of the prefecture of the Belgrade County. From this place, on August 7, 1846, he entered the military service. As a volunteer, he took an active part in the events in Vojvodina in 1848/49. After the uprising, in 1849, he was first sent to Vienna, and then to France, in a special political mission.
Upon his return from France, on December 17, 1855, he was appointed chief of the Military Division of the Ministry of Internal Affairs, and at the same time adjutant of His Majesty Prince Aleksandar Karadjordjevic. Beside his regular duty, in the period between 1855 and 1857, for a certain period of time, he was an acting mayor of Belgrade. After the Saint Andrew's Assembly in 1858 and after the return of Prince Milos to the throne, he was dismissed from the service, and practically sent back to his birthplace, Blaznava. He was reactivated in the military service in 1862. During the same year, on March 1, he was appointed chief of the newly established Artillery Department in Kragujevac, as artillery colonel. He remained at that position until 1865. While he was chief of the Artillery Department, he dealt with gun and cannon modernization, and for the invention of bullets with longer range than before, he was awarded by the King of Naples.
The Greene and Peabody rifles, which were in the military inventory, were modified into new and advanced weapons. As chief of the Artillery Department he was singled out for his outstanding performance during the Turkish bombing of Belgrade, when in a very short period of time he prepared, equipped and brought 3000 soldiers from Kragujevac to Belgrade.
After the reconstruction of the Cabinet of Ilija Garasanin, on April 2, 1865 he was named minister of defense, instead of Ipolit Monden. He remained on that duty during the mandate of Jovan Ristic from November 3, 1867 to November 21, 1867, as well as in the Cabinet of Nikola Hristic from November 22, 1867 to June 21, 1868. In all three cabinets he simultaneously performed the duty of the acting minister of civil engineering.
The assassination of Prince Mihailo Obrenovic, on May 29, 1868, the situation changed singificantly. Immediately after the assassination, as a minister of defense he carried out coup d'état and with the support of the troops of the Belgrade Garrison he proclaimed Milan Obrenovic, a minor grandson of Jevrem Obrenovic, as Prince. The Assembly, which was convened on that occasion in Belgrade, under a strong pressure and besieged by the army, confirmed the enthronement of Prince Milan, аnd named Milivoje Blaznavac, Jovan Ristic and Jovan Gavrilovic as members of regency. Blaznavac remained on that duty until the age of majority of Prince Milan, i.e. until August 10, 1872. On that day, Prince Milan promoted him for his merits to the rank of general and he gave him mandate to establish a new government. In the newly formed government Blaznavac was prime minister and defense minister at the same time. He was head of the government until his death (March 23, 1873).
One of the Blaznavac's merits was the abolishment of so far practice of exchnge of the service in Regular army, recruitment through using gambing as well as introduction of mandatory military service. He was the first person in the history of Serbian Army to receive the rank of general.
Decorations: there are no data on his receiving any Serbian decorations.
As for the foreign decorations, he received the Montengrin Order of Independence of the 2nd degree, the Turkish Mejidie Order of the 2nd degree, the Naples Order of Saint George of the 3rd degree, the Austrian Order of the Iron Crown of the 1st degree