Jovan D. Dragasevic
(1836-1915)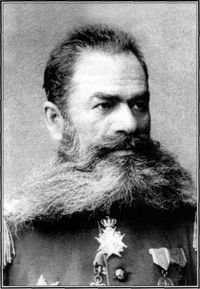 He was born on February 16, 1836 in Pozarevac, and he died in 1915 in Nis.
After he finished high school in Belgrade, in 1855 he entered the Artillery School, which he finished in 1860, when he was commissioned as artillery 2nd lieutenant. He also passed the exam for General Staff officer. In 1880 he was promoted to the rank of colonel. He was retired in 1888, when he was made honorary general.
He covered the following important positions: a Military Academy professor (from 1860 to 1885, with minor interruptions), covering seven different courses. He was also a professor in the Great School of Belgrade, and during the bombing of Belgrade in 1862, he was in charge of the Pupils' Legion. He organized and commanded the Bulgarian Legion in 1867 and he was a commander of the Krusevac Brigade. In 1876 he began to serve at the Supreme Headquarters in 1876 and in the period 1877-1878 he was the chief of the Adjutant Department of the Supreme Headquarters. He was a part of the Serbian delegation to the Congress of Berlin in 1878. Between 1878 and 1885 he was at the position of chief of the History Department in the Main General Staff. In 1885 he was appointed assistant to the Supreme Chief Commander, assistant to the Chief of the Main General Staff etc.
As 1st lieutenant, he was a geography and military history professor in the Military Academy. Under the influence of the activities of the Society of Serbian Letters (predecessor of the Serbian Royal Academy of Sciences, whose member he was to become later) he was given the task of collecting the archive material and writing the national history. In 1865 he submitted a report and made a plan on how to organize the military history research work in Serbia.
He was also known as a military writer, literarian, editor of the first military journal "Vojin", than the editor of the journals "Ratnik" ("Warrior") and "Dardanije" and a contributor to several magazines. He wrote more than 20 books with topics based on geography, history, stylistics, as well as volumes of poetry, books on travel, dramas etc.
He was awarded the Order of the Takovo Cross of the 2nd, 3rd and 5th degree, the Order of Saint Sava of the 2nd and 3rd degree, Memorials for the 1876-1878 wars and for the war in 1885 etc.