Ranosovic P. Velimir
(1888-1970)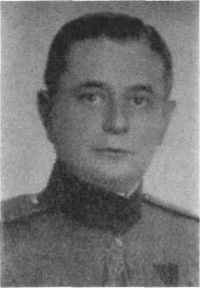 Ranosovic P. Velimir, brigadier general of the General Staff (June 7, 1892 - Paris, May 15, 1954). He graduated from the Russian University and the 25th class of the Higher School of the Military Academy.
During the 1912-1918 wars: in 1916 he was sent to Russia to be a commander of the ammunition convoy of the 1st volunteer divison. After the war: commander of the machine gun detachment of the 5th Corps; since December 6, 1920 he was commander of the 1st squadron of the Cavalry Non-Commissioned Officers School; in the Operational Division of the General Staff Division of МВМ; from April 30, 1929 he was the acting chief of staff of the Command of Bregalnica Division Area; from December 10, 1930 he was commander of the 3rd Battalion of the 23rd Infantry Regiment; from February 9, 1932 he was the acting chief and then the chief of the III Section of the Intelligence Division of the Main General Staff; from January 31, 1933 he was the chief of staff of the Sava Division Area; from March 19, 1935 he was the chief of staff of the Morava Division Area; from April 17, 1936 to April 17, 1937 he was commander of the 8th Corps; from April 17, 1937 he was acting commander of the Cavalry School; he was defense attaché in Rome до АР. He was a refugee from 1941 onwards. He was also chief of Cabinet of the Prime Minister Simovic in London. He was retired, but then reactivated and appointed as a defense attaché in Cairo and Ankara (from February 22, 1944). He remained in emigration and lived in France.
He was promoted colonel on December 17, 1932 and brigadier general on September 6, IX 1940.
Family situation: his father Petar was officer, his mother Mileva Vukomanovic was a niece of general Ranko Alimpic, state advisor; his brother's name was Mihailo and his sister's name was Nada.