Radovic M. Milorad
(1888-1970)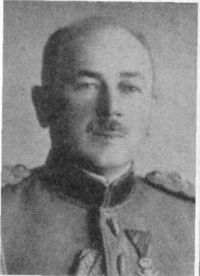 Radovic M. Milorad, general of division (Belgrade, 10 December 1888 - ? 1970). He was a cadet of the 39th class of the Lower and 25th class of the Higher School of the Military Academy. He also finished the General Staff course. He spoke French, Russian and English.
Duties: On December 27, 1913 he was appointed sergeant in the 18th Infantry Regiment. During the 1912-1913 wars: sergeant in the 8th Infantry Regiment. During the 1914-1918 war: commander of the machine gun squad in the 23rd Infantry Regiment and the 1st Yugoslav Infantry Regiment. After the war: from November 7, 1925 commander of the 3rd Battalion of the 11th Infantry Regiment, commander of the 2nd Battalion of the 11th Infantry Regiment; from April 22, 1929 assistant of the commander of the 37th Infantry Regiment; from May 14, 1931 commander of the 52nd Infantry Regiment; until March 16, 1934 commander of the 1st Mountain Infantry Regiment; from March 16, 1934 to March 16, 1937 king's adjutant; from March 10, 1936 he was the commander of the Guard's Infantry Regiment, beside his regular duty; from 1937, defense attaché in England; from June 26 until October 30, 1940. assistant of the commander of the Guard; from November 20, 1940 commander of the Zeta Division area. In АР appointed as defense attaché in London. During his service in London, in 1941, he was in MVM and he was a chief of the Military Cabinet of the president of the Government general Simovic. He was retired in November 1941. He continued to live in emigration. Chief of the Cabinet of King Petar II. He lived in Australia and England, where he died.
Promotions: 2nd lieutenant in 1910; brigadier general on December 31, 1936; general of division on December 31, 1940. He was decorated with the Order of Karadjordje's Star with Swords of the 4th degree.
Family situation: from 1919 married to Miss Agnes, daughter of John Findley, landholder from England.