Stojanovic Z. Dragomir
(1878-1943)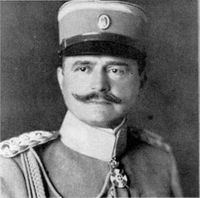 Stojanovic Z. Dragomir, army general (born in Knjazevac on August 18, 1878 - died in Belgrade on June 20, 1943) He was cadet of the 28th class of the Lower and 11 th class of the Upper School within the Military Academy. He was an intern at 22nd Artillery Regiment in Versaille in the period between 1907 and 1908. He graduated from the Army General Staff College in Serbia.
Duties: From September 2, 1903 he served as the sergeant in the Mountain Artillery Regiment 1st Division; from October 28, 1903 to 1904 - artillery sergeant, instructor of the NCOs Artillery School in Kragujevac; from October 28, 1905 to 1907 and from 1911 to 1912 - Battery Commander in the same school; from October 4, 1908 - commander of the Sumadija Artillery Regiment's 1st Battery; from August 24, 1913 to 1914 he was commander of the Timok Artillery Regiment's 2nd Division.
In 1912 - 1913 war: he was a Battery Commander of the Sumadija Artillery Regiment's second call. In 1914 - 1918 wars: until 1916 he was a commander of the Sumadia Artillery Regiment's Division; from March 1916 he was commander of the Sumadia Artillery Regiment's Field Division; from May 1, 1916 he served as a delegate in Eastern Army HQ; in period between 1916 and 1917 he was chief of staff of 2nd Army Artillery Command; from December 1, 1917 in Shooting School in Belfor, and afterwards he served in 60th Division in Werden; from March 1, 1918 he teached "Artillery Tactics" in the Artillery Shooting School in Thessaloniki; from July 15, 1918 he served in Operations Section of the Supreme Command Artillery Division. After the war: acting chief of the Supreme Command Artillery Division; from February 14, 1920 commander of the Heavy Artillery 1st Regiment; from March 10, 1921 he teached"Artillery Tactics and War Service" in Artillery Shooting School; from January 16, 1923 he was instructor in Artillery and Infantry Shooting School; from April 17, 1923 he was a commander of the Bosnia Division Area Artillery Brigade; from September 17, 1923 he was a commander of the Drava Division Area; from December 30, 1925 he was artillery inspector in the Army and Navy Ministry; from October 4, 1929 he was the first adjutant to the King; from April 6, 1931 to April 18, 1934 he was Army and Navy Minister; from June 8, 1934 to November 13, 1936 he was commander of the 1st Army Area. He retired on December 11, 1936. During the April War he was a commander of the 2nd Army Area - wartime. He was captured but not taken to the warcamp.
Promotions: artillery sub-lieutenant in 1898; captain in 1908; major on May 5, 1911; lieutenant-colonel on October 31, 1913, colonel on October 1, 1915; division general on October 21, 1923; army general on October 17, 1930. He was awarded Order of the Karadjordje's Star with Swords of III and IV class (twice).
Family situation: father Zivko, salesman from Zajecar, mother Anka from Soko Banja; in 1905 he married Katarina, daughter of the general Mihailo Rasic; children: son Lubomir, daughters Anka and Leposava; his daughter Anka got married in 1933 to artillery captain Vladimir G. Peric. Until the April War he lived in his apartment in 12/11 Avalska Street. He was burried in Novo Groblje cemetary, on parcel 79. BIBL: Artillery Tactics 1-2. (Sarajevo 1921, 1922).