Minister Sutanovac Receives Newly Promoted Generals
19. 02. 2010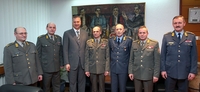 The Minister of Defence, Dragan Sutanovac has received today the newly promoted Generals: Branko Andric, Head of the Directorate for Organization, Dragan Vladisavljevic, Deputy Director of the Military Intelligence Agency, Mladjan Nisevic, Chief of the Staff of the Training Command, Srdjan Novakovic, Chief of General Logistics and Dusan Stojanovic Commander of the 2nd Brigade of Land Forces gave them decrees on promotion.
Minister Sutanovac congratulated the newly promoted generals, emphasizing that they would together continue implementing reforms of the defence system deserved by Serbia. He particularly emphasized the importance of the conclusion of the process of professionalization of the Armed Forces of Serbia until the end of this year, which would be the priority task of the whole defence system in the future.
Through the new value system implementation, high ranks will be much easier to obtain. In accordance with that, the Minister expressed his expectations that the newly promoted brigadier generals would continue raising the level of reputation of the Armed Forces of Serbia and the profession.